Library Home ►

Welcome to the WHSPA Library!
We are located on the top floor of D Block, above TAS.
We have a lovely bright space for you to study or read. The library has a reading section, 30 student computers for study and research, quiet study carousels, two separate classroom sections, and lots of tables for study.
The books are divided into easy sections for you to find what you need


Fiction
Non-Fiction
Reference
Senior Study
Biographies
Short Stories
True Stories
Easy read Non-Fiction
Graphic Novels
Picture Books
Magazines and newspapers
Mrs Pfister - Teacher Librarian
Mrs Pfister is a qualified Teacher Librarian, with a Masters in Teacher Librarianship from CSU Wagga. Mrs Pfister is here to help you, with finding a book or doing research for an assignment.
Ms Pike & Ms Porter - Library Assistants
Ms Pike and Ms Porter complete all administration & clerical duties required in the library. They are here to help you with things like borrowing, printing and binding.
Here is some basic info for you to remember:
Opening times: 8:30 - 3:10; Before school, Recess and Lunch
Seniors: Welcome during study periods – sign in at front desk;
Borrowing: Yr 7-10 - 3 books; Yr 11,12 – 5 books.
Computers: 30 available for individual use during breaks; Classwork during lessons



Phone : 42296844 x 106
Other Staff in the Library:
Owen Williamson : IT Support
Ms Clancy : Careers (x132)
Articles by Mrs Pfister :
Living books: Celebrating diversity through collaboration by Liane Pfister (go to page 37)
A new chapter for Public Libraries - an interview with Liane Pfister
The more you read, the more things you will know. The more that you learn, the more places you'll go.
Dr Suess, 'I Can Read With My Eyes Shut!'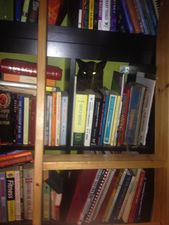 Mrs Pfister's cat Timmy is an avid reader!